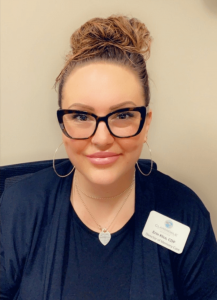 Addison, Ill. (February 28, 2020) – Clarendale of Addison, the senior living community located off Route 53 and I-355 in Addison has added a new position, Director of Memory Care, and hired Erin K. Klco to support their dedicated neighborhoods for individuals with Alzheimer's and other forms of dementia.
"We're so delighted to add the important role of Director of Memory Care to head up our memory care neighborhoods and to have Erin join our Clarendale team," says Executive Director Cynthia Miceli. "With more than 9 years of experience in memory care, she brings the expertise and skills needed to effectively train, mentor and inspire our staff, as well as the passion to support our residents and their families with strength and compassion."
"My passion for Memory Care residents is finding out their 'Joui Sance,' loosely translated from French, it means what makes them tick," says Klco.
Klco elaborates: "When you gather the resident's history and background information from the family, and can bring back that sparkle into the resident's eyes—through reminiscing, life station interaction, music, and daily activities that they may enjoy…it's what gives me the greatest feeling at the end of the day. Then knowing I get to do it again when I come in the next day…it's an amazing feeling!"
Klco also likes the residential setting, "It's designed to make those who live here feel at home, but perhaps more important, our heartfelt approach to care truly offers individuals a sense of safety, security and quality of life that rewards their everyday successes."
With the peace of mind and security of 24-hour nursing on-site and Heartfelt CONNECTIONS – A Memory Care Program®, Clarendale is attracting attention from families of individuals with all forms of dementia. The community's memory care program recognizes that abilities lost from a memory disorder are less important than the abilities that remain.
According to Klco, "We celebrate everything our residents do—creating success stories one small victory at a time. It's reassuring for both residents and their families. Rather than being caregivers, loved ones can return to being a daughter, son or spouse again."
Clarendale of Addison's two memory care neighborhoods include the option of comfortable private and companion suites. Residents enjoy three delicious meals a day, accommodating special diets, served in their own neighborhood dining room or in their room. The community offers trained care 24 hours a day, including daily activity programming and local transportation, assistance with daily living, medication administration, weekly housekeeping services and more.
"The focus—whether in our independent living and assisted living neighborhoods or in memory care—is on total health and wellness. In fact, our Health & Wellness Navigation™ program helps ensure that residents can navigate any medical challenges that may lie ahead," says Miceli. "It's a comfort to both residents and their families."
Seniors and families interested in Clarendale of Addison's memory care program may schedule a visit to see the community. It is located at 1651 West Lake Street in Addison.
Before dropping by Clarendale of Addison, the community recommends calling (630) 749-5699 to schedule a visit. Details are also available on their website at ClarendaleofAddison.com.
Clarendale of Addison is one of a series of Clarendale senior living communities from developer-builder Ryan Companies US, Inc. Life Care Services manages the property. For more information, visit www.ryancompanies.com and www.lifecareservices-seniorliving.com.
About Clarendale of Addison
Clarendale of Addison is a senior living community that offers extraordinary independent living, assisted living and memory care. The community is the ideal lifestyle choice for seniors seeking more convenience, camaraderie, and security combined with supportive services and care in gracious and comfortable surroundings. Clarendale of Addison is managed by Life Care Services®, An LCS® Company, the nation's second-largest operator, leading the way in senior living with more than 45 years of proven experience.
About Ryan Companies US, Inc.
Founded in 1938, Ryan Companies offers comprehensive commercial real estate services as a national developer, architect, builder, capital investment consultant, and real estate manager with a focus on bringing lasting value to its customers and the communities in which it works.  Ryan's market depth includes retail, industrial, healthcare, and senior living. Ryan's development and corporate build-to-suit work spans a wide range of product types including office, mixed-use, hospitality, multifamily housing and mission critical facilities. With a focus on bringing lasting value to its customers and the communities in which it works, Ryan has over 1300 employees in 16 offices and has completed projects in 39 states. For more information, visit ryancompanies.com.
About Life Care Services
Life Care Services®, An LCS ® Company, leads the way in senior living with over 40 years of proven experience. This innovative leadership brings passion and performance through strong financial stewardship, lifestyle-centered services as well as high quality health services in communities as unique as the individuals who live in them.